Technology leaving no one behind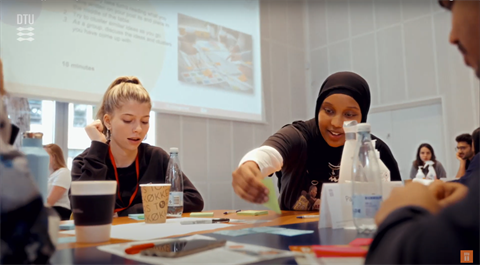 Technology Leaving no one Behind provides opportunities and support to make inclusion and accessibility a natural part of engineering new sustainable technological solutions at DTU. The initiative focuses on inclusion and accessibility in both educational and entrepreneurial activities.
Sustainability is more than environmental aspects; it is about developing technology for ALL people putting attention to accessibility, inclusion and social impact of your solution leaving no one behind. The initiative focuses on the future of sustainable technological solutions by contributing to the fundamental principle behind the UN Sustainable Development Goals of "Leaving no one behind".
Technological solutions that attend to accessibility and inclusion can enhance usability, simplicity and functionality as well as drive innovation, increase market reach to larger user-groups and greater social impact. This leads to better solutions for ALL and enables the 15% of the global population with disabilities to have equal opportunities for participation and contribution to society.
Technology Leaving no one Behind boosts current DTU Skylab offers as well as drives a number of unique, new activities, offers and events, including:
Launching entrepreneurship and innovation programs and activities, case competitions and workshops, as well as network and coaching for start-ups working in the field of universal design and assistive technology


Developing extracurricular activities, tools and methods to support and introduce students to universal design in both research, education and technological innovation, guided by Post.doc. Dagný Valgeirsdottir.



Building strategic initiatives, ecosystems and partnerships externally and internally at DTU to ensure the full future anchorage of the initiative.
Course workshops and guest lectures

– interested in how accessibility and inclusion can benefit your curriculum? Invite us to come tell about the why and how of inclusive technology, diversity in user-groups, leaving no one behind, and more in your course or study programme.


Staging Co-Creation & Creativity Course – focusing on co-creation, user-driven innovation, and participatory design approaches students learn to develop solutions leaving no one behind and maintain an inclusive mindset with an emphasis on universal design. The course is run by Dagný Valgeirsdottir every Fall semester. Sign up on Study Planner here.


Supervising & mentoring – on DTU student projects about universal design and assistive technology within bachelors, masters or special course study programmes by Post.Doc. Dagný Valgeirsdottir.


Methods, tools & universal design playbook – providing resources to drive creativity and innovation in inclusive solutions

from probe kits, to ability prompt cards, telepresence robots, books on universal design and our very own Universal Design Playbook.

Check it all out here

and contact

dagnva@dtu.dk to learn more.



Real world inclusivity challenges –

Collaborate with external partners on challenges for real people with real impact as part of your course, bachelor project or master's thesis.

Provided by industry, user-organizations and end-users

. Contact us to hear about

our active challenges

from e.g. Roskilde Festival, Center for the Deaf, or The Danish Association of the Physically Disabled.



Network to user-organizations

and ecosystem

–

want to co-create, validate your solution, do user-testing or find industry partners? Get in touch and let us help you find relevant users, industry partners or

participate with a user-challenge

.


Events, case competitions & workshops

–

Showcase your inclusive project, hear interesting keynotes and network with likeminded people when Technology Leaving no one Behind and DTU Skylab hosts events on universal design and accessibility.

Next event

Diversity Day Workshop, SEPT 28, 2022

.

Watch our last event "Leaving no one Behind – The Entrepreneurial Opportunity" here. Sign up to our interest list be first in line for events and workshops from Technology Leaving no one Behind here.



Entrepreneurship & innovation programs

–

Connect, explore and learn why and how leaving no one behind can be an entrepreneurial opportunity for your project idea or start-up solution. We provide opportunities within internal and external accelerators, events and offers for entrepreneurs working within accessibility and inclusion. Sign up for DTU Skylab Ignite and accelerate your inclusive solution.



Start-up Coaching

& Mentoring

–

DTU Skylab offers coaching and mentoring on the topic of universal design and assistive technology for student projects, startups and entrepreneurs at DTU. Looking for a coach or mentor for your startup? Please contact Project Coordinator Line Johansen on linejo@dtu.dk to get 1:1 coaching on and access to industry mentors.



DTU Skylab Funding for start-ups

– in the field of universal design and assistive technology. Apply for Bevica Seed Grants through DTU Skylab Funding here.

Next deadline: SEPTEMBER 11, 2022

.

Learn how you can receive Bevica Seed Grants for your start-up idea

.



Free coffee and a chat

–

Contact us to learn how you can partner or participate in developing solutions leaving no one behind as student, start-up, organization or industry.
…… And more to come!
Technology Leaving no one Behind is powered by DTU Skylab – enabled through partnership with The Bevica Foundation, Disabled People's Organizations Denmark, Sammenslutningen af Unge Med Handicap & DTU Management
Technology Leaving no one Behind currently runs as a three-year project from October 2019 until December 2022.
BEVICA FONDEN
DPOD
Sammenslutningen af Unge Med Handicap
DTU Management