OpenInnovation CIRCULARITY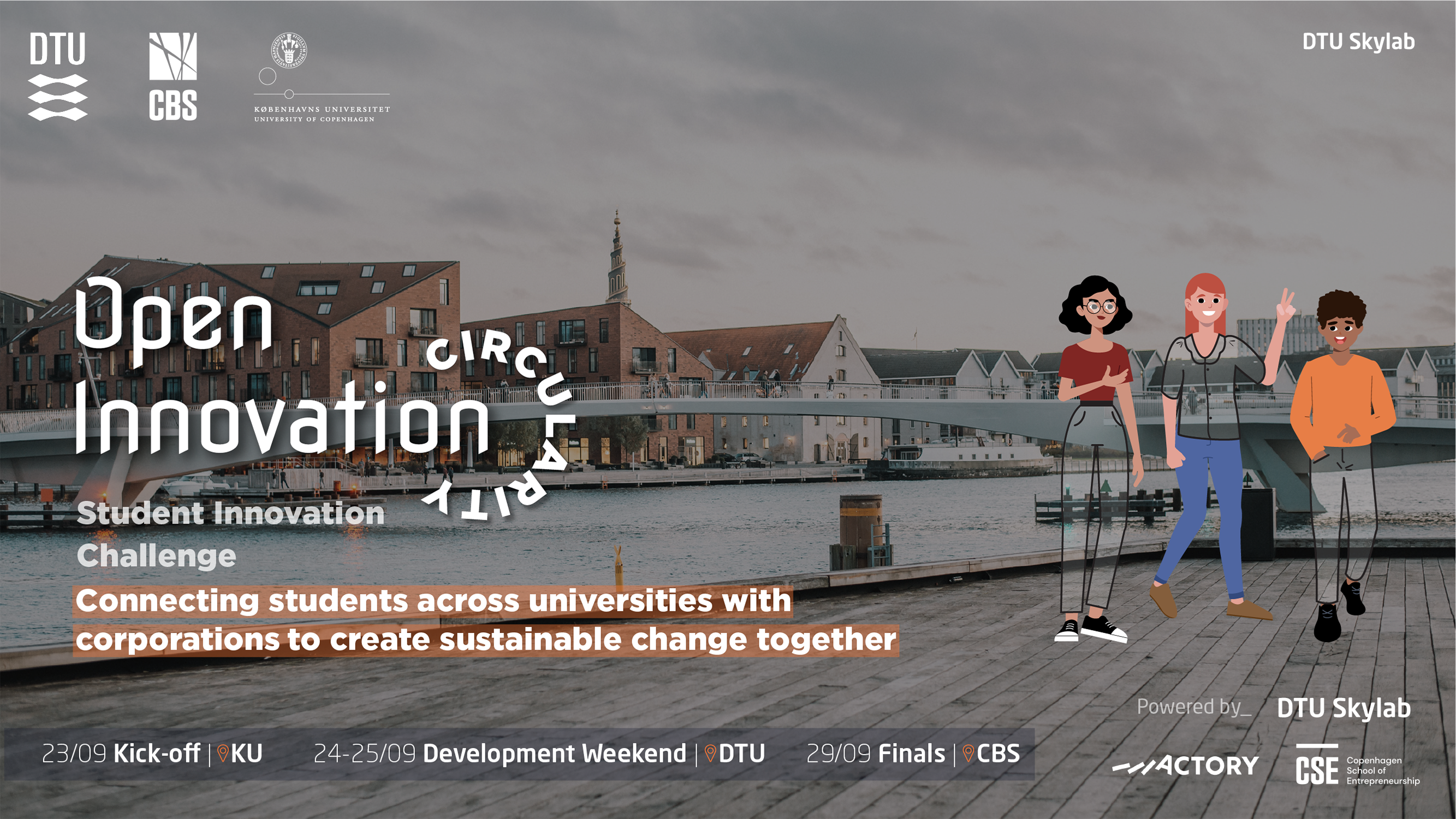 Join us for OpenInnovation CIRCULARITY!
This fall, an innovation pilot is being launched under the cooperation of Denmark's three leading universities: Open Innovation CIRCULARITY!
DTU Skylab, CSE at Copenhagen Business School and Actory at the University of Copenhagen join forces to co-host an open innovation challenge in collaboration with partners from industry, business, and organizations to contribute towards sustainable change and action.
Open Innovation CIRCULARITY consists of a kick-off event (Sept 23rd), a development weekend (Sept 24th – 25th) and finals (Sept 29th), where students across different Danish institutions and disciplines develop new circular solutions with an aim to rethink our creation, usage, and disposal of products & services. The aim is to unite talented students, PhD's and researchers from business, social science and engineering education to seize the power of interdisciplinary collaboration!
The development weekend is facilitated through research-based tools, insights from industry experts and skill mentors, enriching participants with innovation processes and a circular mindset!
For this fall, the following challenge tracks have been selected:
- RETHINK Health Manufacturing Systems
- RETHINK Urban Systems
- RETHINK Food Systems
- RETHINK Fashion Systems
All participants can sign up as either individuals or as a part of a team and choose a challenge track they wish to work on. Secure your spot now! https://www.tilmeld.dk/openinnovationcircularity22
From 4 challenges towards 20 actionable solutions – Let's create sustainable change together!
Point in time & Where:
- September 23rd – Kick off afternoon event (University of Copenhagen)
- September 24th + 25th – Development weekend (DTU Skylab)
- September 29th (16.00 – 19.00) – Final pitches (Copenhagen Business School)